Light It Up Blue for Autism Awareness
Date Posted: Monday, April 2nd, 2018

April is National Autism Awareness Month. To help raise awareness of those impacted by Autism the Town of Townsend invites our community to "Light It up Blue" for the month of April. Lets Light up Townsend and decorate our homes in blue to support this movement. We will also be hosting a big ball Tourney on 4/21/18 to raise funds for Autism Speaks (watch for event page coming soon). For more info on how you can participate contact CW Cook at 302.345.1914

Every April, Autism Speaks kicks off World Autism Month beginning with UN-sanctioned World Autism Awareness Day on April 2nd.

Joined by the international community, hundreds of thousands of landmarks, buildings, homes and communities around the world, light blue in recognition of people living with autism. Autism-friendly events and educational activities take place all month to increase understanding and acceptance and foster worldwide support.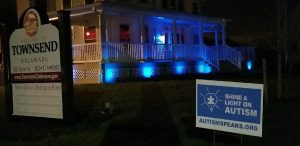 Tags: Autism, Autism Awareness, Awareness, Blue, National Autism Awareness Month