National Wildlife Photo Contest
Date Posted: Monday, February 18th, 2019

The 2019 National Wildlife Photo Contest is now open. Enter today!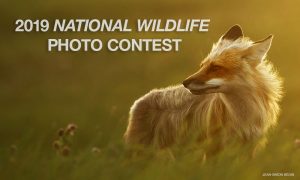 The National Wildlife® Photo Contest, which began more than four decades ago, celebrates the power of photography to advance conservation and connect both photographers and viewers with wildlife and the outdoors. The most compelling nature images can help protect wildlife in profound ways.
Grand prize is $5,000, with winners in each category also receiving awards.
Details can be found at the following link:
https://photocontest.nwf.org/menu-home.aspx?comp_id=65DB9FA0-0691-41EB-BC29-53B5879A3B94