Townsend Community Walking Club
Date Posted: Monday, June 6th, 2022

The Town of Townsend is pleased to announce the Community Walking Club! Join your neighbors and members of Town Council every Thursday in the months of June, July, and August at either 6:00 am or 6:00 pm for a walk through Town. Walks will begin and will finish at Townsend Town Hall located at 141 Main Street. Bring a friend and connect with your community!

The Townsend Community Walking Club will meet on the following dates and times:
June 9th—–6 AM
June 16th —– 6 PM
June 23rd —–6 AM
June 30th —– 6 PM
July 7th —–6 AM
July 14th —– 6 PM
July 21st —–6 AM
July 28th —– 6 PM
August 4th —–6 AM
August 11th —– 6 PM
August 18th —–6 AM
August 25th —– 6 PM
Please contact Townsend Town Hall at 302-378-8082 or via email at townhall@townsend.delaware.gov with any questions.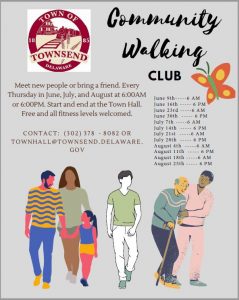 Townsend Community Walking Club Flyer