National Wildlife Federation Garden for Wildlife Program
Date Posted: Sunday, March 11th, 2018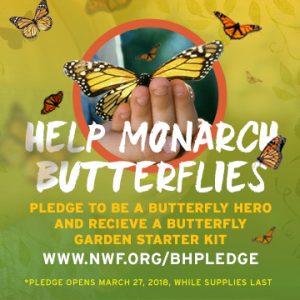 Mark your calendars for the spring launch of Butterfly Heroes!
The monarchs still need our help! As part of our Garden for Wildlife program, Butterfly Heroes seeks to bring awareness to their declining population. Take the pledge, and you can help create new habitats for monarch butterflies.
Supplies are limited. Your FREE Butterfly Garden Starter Kits include regionally appropriate milkweed seeds, a Ranger Rick Nature Notebook, and directions to create or expand a butterfly garden!
Check out NWF's website on Tuesday, March 27th to take the pledge! www.nwf.org/BHpledge
Tags: Butterfly Heroes, Garden for Wildlife, NWF